This US company is offering 'fur-ternity leave' for new pet parents
Employees are allowed a week of work-from-home days so they can spend quality time with their companions.
Getting a new pet can be an emotional experience and one company in the US is offering its employees a chance to enjoy welcoming a new family member into their lives.
Nina Hale, a digital marketing company based in Minnesota, has introduced a "fur-ternity leave" policy which gives new pet parents a week of work-from-home days so they can spend time with their companions as they adjust to a new home.
The policy was introduced after Connor McCarthy, a senior accounts manager at the company, adopted a Goldendoodle named Bentley and wanted to spend some quality time with him.
He reached out to his supervisor, Allison McMenimen, who approved his request to work from home.
McMenimen, who is the executive vice president for client services at Nina Hale, told Minnesota Public Radio (MPR): "We realised that we had received these requests a couple of times, and we thought, for so many of our hard-working, dedicated employees, there's an opportunity for us to reciprocate their dedication and give them additional flexibility when they're making a major life change.
"And in this case, instead of a human baby, it's a fur baby."
In an interview with MPR, McCarthy said working from home helped him connect with his four-legged companion.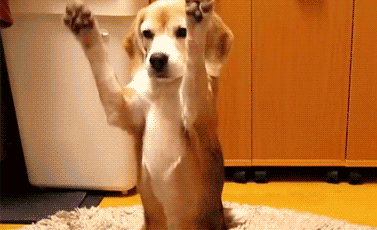 He said: "I think it was great. Within a couple of weeks, he was potty-trained. I was able to help out with that."
Donna Robinson, chief executive of Nina Hale, said the policy is a "part of embracing employee satisfaction as a business priority".
She said: "If we want to continue to set the example as a top workplace, it is crucial to offer innovative benefits that help to preserve the work-life happiness of our employee owners."
document.addEventListener('DOMContentLoaded', function() {
if (!document.querySelectorAll('.widget.video.vms').length) {
var s = document.createElement('script');
s.type = 'text/javascript';
s.async = true;
s.src = 'https://independent.mainroll.com/a/independent_floating_outstream.js?dfp_adunit_l1=InArticleVideo&dfp_adunit_l2=World_News&dfp_adunit_l3=And_Finally&dart_articleId=36537366&dart_art_ID=36537366&dart_kw=%5B%22social%22%2C%22Twitter%22%2C%22Viral%22%2C%22An%22%2C%22extremely%22%2C%22important%22%2C%22debate%22%2C%22is%22%2C%22raging%22%2C%22online%22%2C%22does%22%2C%22a%22%2C%22straw%22%2C%22have%22%2C%22one%22%2C%22or%22%2C%22two%22%2C%22holes%22%5D&section=worldnews_andfinally';
document.getElementById('bb-outstream-37199872').parentElement.appendChild(s);
}
});
#bb-iawr-inarticle- { clear: both; margin: 0 0 15px; }
Press Association
!function(d,s,id){var js,fjs=d.getElementsByTagName(s)[0],p=/^http:/.test(d.location)?'http':'https';if(!d.getElementById(id)){js=d.createElement(s);js.id=id;js.src=p+'://platform.twitter.com/widgets.js';fjs.parentNode.insertBefore(js,fjs);}}(document, 'script', 'twitter-wjs');
(function() {
var zergnet = document.createElement('script');
zergnet.type = 'text/javascript'; zergnet.async = true;
zergnet.src = (document.location.protocol == "https:" ? "https:" : "http:") + '//www.zergnet.com/zerg.js?id=46430';
var znscr = document.getElementsByTagName('script')[0];
znscr.parentNode.insertBefore(zergnet, znscr);
})();